6 Technical Partners: NGOs who have specialized knowledge and can offer technical support such as legal aid, capacity-building, technical advice, development of training materials, research, etc.
40 'Network of network' Partners: Expansion of the network to other NGOs, related to the member NGOs and included as associated NGOs.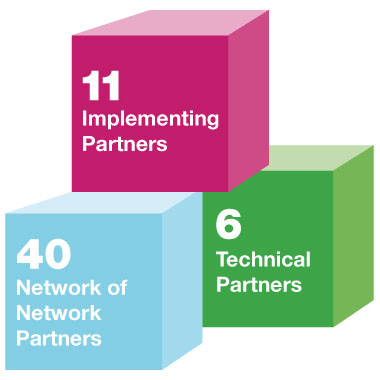 Cambodian Children's Trust (CCT)
Cambodian Children's Trust (CCT) is a secular, non-profit Cambodian NGO working to enable children in Battambang to break free from the cycle of poverty and become educated, ethical and empowered leaders in their communities.
Damnok Toek
Damnok Toek ("Drop of water" in English and "Goutte d'eau" in French) is a Cambodian organization working with vulnerable children and their families. All services by Damnok Toek are provided in a holistic way in order to be able to support vulnerable children in Cambodia in the best way possible.
Friends-International
Friends-International is a leading social enterprise saving lives and building futures of the most marginalized children & youth, their families and their communities in South East Asia and across the world.
Kaliyan Mith
Kaliyan Mith provides a holistic social reintegration service that includes Outreach, Drop-In Centers, Non-Formal Education and school reintegration and Vocational Training.
Komar Rikreay
KOMAR RIKREAY (KMR) is a local Cambodian organization working since 1998 and focusing on child protection and safe reintegration in Battambang province, on the North – West of Cambodia.
Krousar Thmey
Krousar Thmey is a non-governmental organisation globally recognised for its influence, its forward-looking approach and the sustainability of its achievements. Projects for children are integrated into Cambodian society and our main objective now is to transfer all schools to the state sector by 2020.
Mith Samlanh
Mith Samlanh ("Friends" in English) is a local organization working with marginalized children/youth, their families and their communities to build their futures.
Mlop Tapang
M'Lop Tapang strives to provide a safe haven for the children of Sihanoukville, offering support to any child at risk. We offer access to education, reintegration with families, life-skills training and creative and recreational activities, while ensuring protection from all forms of abuse.
Samatapheap Khnom
SKO is dedicated to improve the living conditions of poor and vulnerable families in Cambodia through the provision of progr

ams that promotes human rights and supports access to services which maximizes the potential for development in an informed and participatory manner.
Transcultural Psychosocial Organization (TPO)
The Transcultural Psychosocial Organization (TPO) Cambodia is Cambodia's leading NGO in the field of mental health care and psychosocial support.
Children's Future(CFI)
CFI's mission is to foster a generation of self-reliant and compassionate role models for Cambodia by promoting child rights and offering education and opportunities to the poorest children in the Battambang area.
APLE CAMBODIA
APLE is a Cambodian Non Governmental Organisation (NGO) dedicated to combating the sexual abuse and exploitation of children. They operate four programs to protect children.
Children In Families (CIF)
Children In Families (or Komar Knong Krousar in Khmer), is a non-government and non-profit organization in Cambodia, established in 2006, by individuals concerned about the overuse of institutions in caring for the needs of Cambodia's children at risk.
FIRST STEP CAMBODIA
First Step Cambodia (FSC) is a local NGO launched in 2010, designed to meet the needs of male victims and survivors of sexual abuse and their families, carers, supporters and communities in Cambodia.
ICS-SP
IMPROVING CAMBODIA'S SOCIETY THROUGH SKILLFUL PARENTING (ICS-SP) is a Cambodian non-governmental organization, working to promote Skillful Parenting in Cambodia to equip parents/caregivers with knowledge, skill, and confidence to prevent violence against women and children.
LAC
Legal Aid of Cambodia (LAC) is a Cambodian-run non-governmental organization founded in 1995. It has provided Cambodia's poor with a quality legal service free of charge.
SSC
Social services of Cambodia
3PC is an established Program built with Friends-International, partners, UNICEF and MoSVY with a specific MoU (renewed in 2015 for phase 2).
MOSVY
The Ministry of Social Affairs, Veterans and Youth Rehabilitation (MoSVY) provides guidance in planning the program's overall direction, according to the Ministry and Royal Government's policies and strategic plans. It makes relevant documentation and data it holds (e.g. reports on studies and surveys)available to the program . MoSVY assigns and gives instruction to the Department of Social Affairs, Veterans and Youth Rehabilitation (DoSVY) and other local authorities at provincial level to ensure effective and quality implementation of the program.
UNICEF
UNICEF supports to co-fund the program and provides technical assistance, with a focus on advocacy, research, data management system (to ensure its compliance and contribution to the National system), and technical reviews of relevant materials developed by the program. UNICEF shares the results emanating from the program with the Royal Government of Cambodia, shares the lessons learned at regional and international levels, promoting links with other initiatives in neighboring countries.
Friends-International
Friends-International (FI) acts as the facilitator of the 3PC partnership by facilitating the collaboration between partners, supporting the development of organizational, administrative and service implementation capacity of partner NGOs and foster exchange and promotion of lessons learned and good practices. FI ensures capacity building among the implementing partners through training, dissemination of good practice standards, coaching and hands on technical support. FI is also in charge of monitoring and supporting the evaluation of the program, conducting operational research and advocacy campaigns.